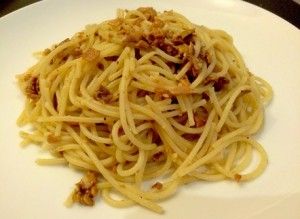 11/10/2015 by Cristiano Bonino 0 Comments
Spaghetti with Mushrooms
by Zia Rita (Cristiano's Aunt from Veneto)

You might enjoy this recipe on our tours in different regions of Italy!
Ingredients for 4 people:
454 gr (1 lb) pasta such as spaghetti or linguine (we recommend a brand that notes "pasta di gragnano" – or the method of extruding with bronze dies and slowly drying… the superior texture and sauce pairing!)
1 gallon water
1.5 Tbsp salt
300 gr (~10 oz) fresh mushrooms such as porcini, chanterelle, cremini or hedgehog
1 garlic clove
4 Tbsp of EVOO
1 tsp minced fresh parsley
Directions:
Set a gallon of water over high heat for the pasta
While it is warming, thoroughly rinse the mushrooms to remove any dirt and chop the mushrooms roughly 
Peel and sauté the garlic (finely minced or whole, as you prefer) in a pan with 2 tablespoons of EVOO until it lightly browns
Add the mushrooms and cook until the water released is all gone
Mince and add the parsley to finish. When the pasta water boils, add the salt (it should taste slightly salty. Adjust as needed)
Butta la pasta (throw in the pasta in Italian) and cook for one minute less than suggested on the package. Taste the pasta before draining it to confirm "al dente"  
Sauté for a minute with the sauce and the remaining EVOO
Buon appetito!