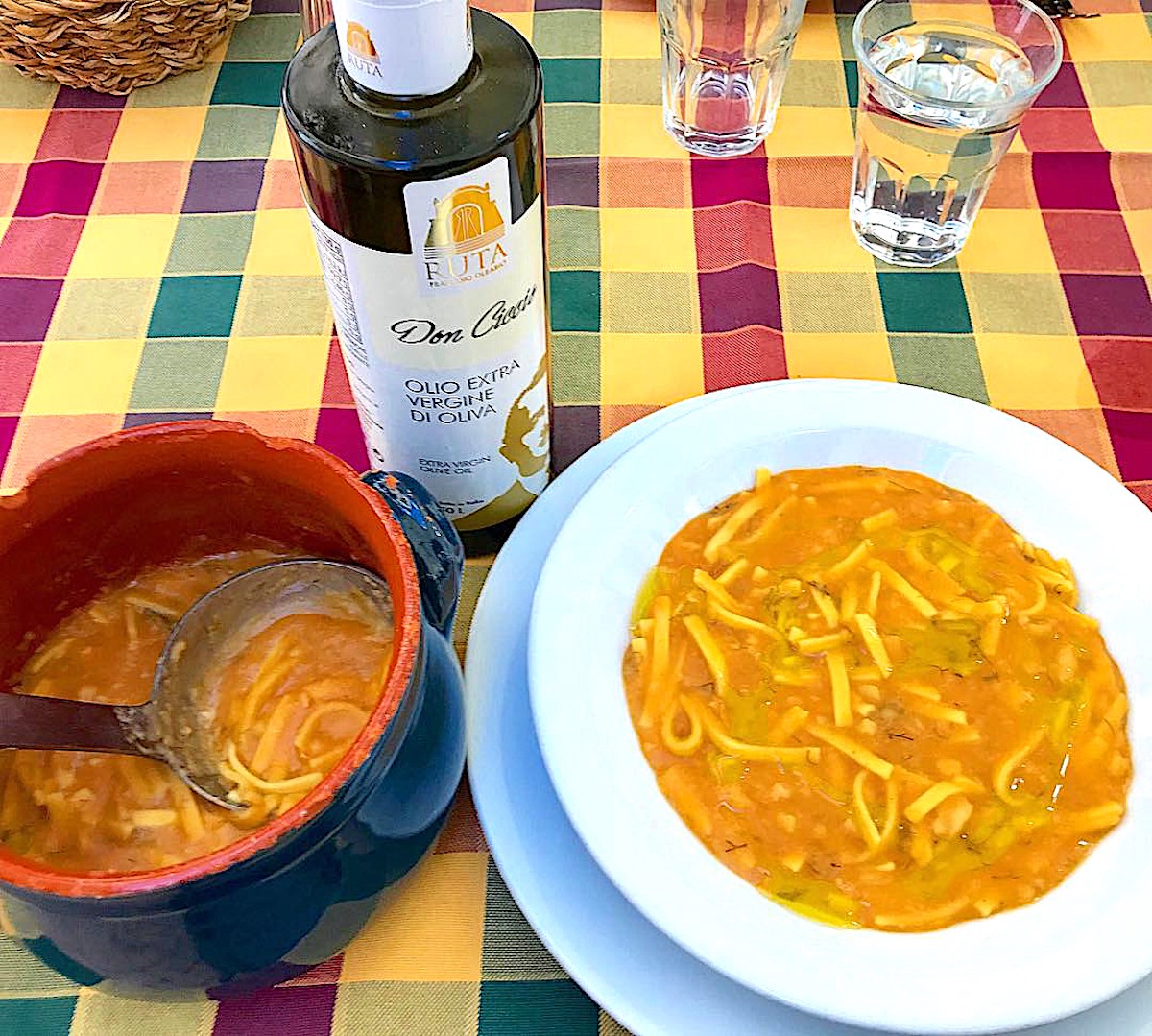 11/28/2020 by foodstoriestravel 0 Comments
Tagliolini con Macco di Fave (Pasta with Crushed Fava Beans)
This version of a celebrated Sicilian dish comes to us from Osteria dei Sapori Perduti in Modica, Sicily.

You might enjoy this recipe on our tour in Sicily at the Osteria dei Sapori Perduti! There, they use the local Slow Food Presidium of fava beans called "cottoia," which are usually harvested in late May for the freshest consumption or are available in dried form all year round. Or, try it for dinner tonight at home!
In accordance to some scholars "maccu" (in Sicilian dialect) and "macco" in Italian comes from the Latin verb "maccare," which means to crush or pound. In this case, it is the result of cooking the fava beans until they fall apart and dissolve into the water. The word "macaroni" has the same etymology.
(Note: We have noticed that fava beans are sometimes hard to find in the USA. We ordered ours online from Hunza Natural Foods)
Ingredients for 4 people:
250 grams (1/2 pound) homemade tagliolini (see recipe here to make your own or use dried pasta such as spaghetti or linguine)
500 grams (1.1 pounds) dried fava beans
1 onion
1 carrot
1 celery stock
1 bunch wild fennel 
1/2 gallon water
4 Tbsp EVOO
salt and black pepper to taste
 
Directions:
Soak the fava beans overnight (or for at least for 6-8 hours) in a pot with plenty of water  
Cook the fava beans in water (do not add the salt yet) in a pot for a couple of hours with the wild fennel (setting aside a couple of sprigs for the next steps of the recipe) until they become soft
If you used the unpeeled dried fava beans remove all the skins for a smoother final result
Drain them, conserving the water they boiled in
Mince onion, carrot, and celery and sauté in 3 Tbsp EVOO over medium heat until lightly brown
Mince the remaining sprigs of wild fennel and add them to the onion-carrot-celery concoction
Continue cooking for another minute or so, and then add the fava beans
Sauté for a few minutes and then add the conserved fava-bean water
Cook for another hour or so, until you achieve a smooth consistency (see picture) 
Adjust with salt, and then enjoy the "macco" either by itself as a gluten-free soup version or atop a pasta, such as broken spaghetti, linguine, tagliolini, or any other shape that you prefer
If using pasta, there is not need to boil it separately--just cook it in the macco until it is done
Serve while hot, drizzling the remaining Tbsp of EVOO on top and seasoning with black pepper
Buon appetito!