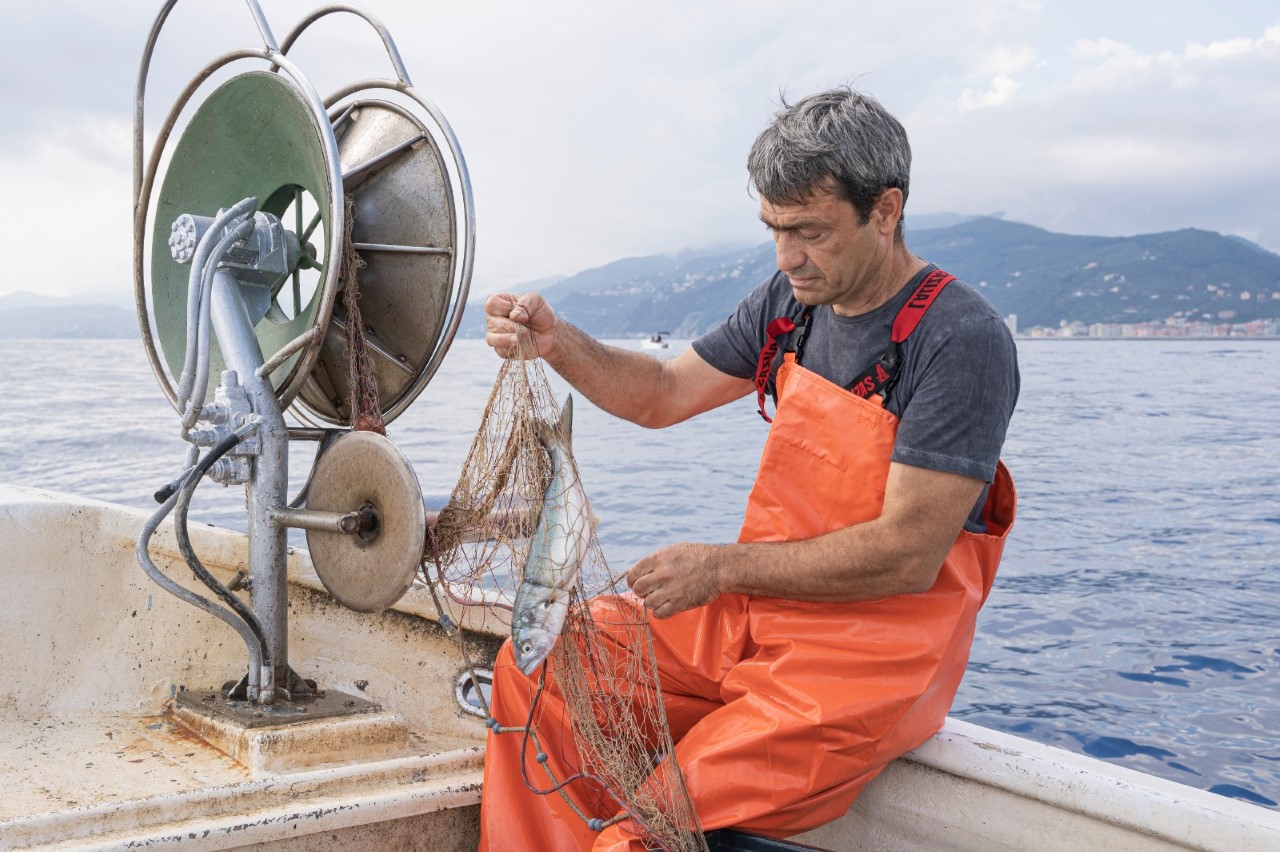 03/02/2023 by foodstoriestravel 0 Comments
The architect-fisherman who is also a chef
The foods we love to feature on tour and celebrate at home always come back to the people. Our favorite restaurants are owned and operated by real people, who belong to a specific place, and whose hands, faces, and stories give as much to the dishes they make as the ingredients they use.
Recently, we discovered Raieu, which means "raviolo" in the local dialect, in Cavi Borgo, the old part of Cavi di Lavagna, between Sestri Levante and Chiavari on the eastern Ligurian coast.
Lorenzo Dasso (pictured) is the third generation of this restaurant, which his nonni (grandparents) opened in 1962. Their timing proved auspicious: the '60s gave rise to both mass tourism to Italy and the trattoria (casual, tavern-style dining) as a popular dining option.
The night we ate there, we met Dasso's mother, daughter of the founders: Signora Grazia aka Carla (pictured). She was a teenager in 1962 and has been working in the restaurant ever since (60 years)! Here she shows off the traditional "mandilli de sea" ("silk handkerchief," so-named for the smoothness of this thin-sheet pasta) dressed with the family's signature pesto sauce.
Dasso had been an architect, working at the top of his field as part of the studio of Renzo Piano. His work took him on exciting projects all over the world. But then he realized that he wanted to go back to his roots… Like his grandparents, Dasso had a love of the sea and a passion for cooking. So he left a successful career in architecture to go home and become a fisherman and a chef. At Raieu, Dasso is in charge of the "fish program," if you will. He cooks all of his own harvested fish.
Here is one of his recipes, published in the local Italian newspaper Levante News. Raieu is included in the guidebook Osterie di Italia by Slow Food, which promotes local restaurants preserving tradition.
(Fisherman Lorenzo photo credit Laura Bianchi)